From clicktivist to canvasser: Online to offline mobilization
Session Type(s): Training
Training Tag(s): Grassroots Organizing/Campaigns
Starts: Thursday, Jul. 17 9:00 AM (Eastern)
Ends: Thursday, Jul. 17 10:15 AM (Eastern)
The netroots have been critical in turning a number of races from unlikely to viable, proving that sometimes our best volunteers are behind a computer screen. This session presents two successful case studies of online organizations mobilizing their memberships into offline actions. We will identify strategy, tools and best practices for successful volunteer engagement.
Trainers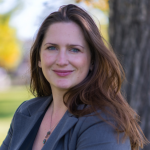 Kaili is Policy and Advocacy Director at Accountable Tech, working to bring about long-term structural reform to tackle the existential threat Big Tech companies pose to our information ecosystem and democracy. Before joining the team at AT, she worked at Mozilla Foundation where she focused on platform accountability around electoral disinformation, algorithmic amplification and consumer privacy.
She has spent more than a decade in the progressive movement organizing for gender justice, corporate accountability, and pro-democracy initiatives. Kaili is based in Colorado and she loves skiing, hiking with dogs, and vegetarian cooking.
Karli jumped into political organizing with both feet in early 2008, when what started as a volunteer opportunity supporting Barack Obama in the Minnesota Super Tuesday primary quickly turned into a full time (and then some) position doing field work for OFA in the critical state of Ohio. Since then, she has organized around a wide variety of progressive candidates and issues in a number of Midwestern states. She is most proud of the work she has done in her home state of Wisconsin – first, working for former Sen. Russ Feingold; then organizing protests, petitioning and recall campaign activities for SEIU, MoveOn PAC and DFA in the wake of the passage of Scott Walker's union-busting legislation.