Filmmaker Caucus
Starts: Thursday, Jul. 17 9:00 AM (Eastern)
Ends: Thursday, Jul. 17 10:15 AM (Eastern)
Introduce yourself to fellow filmmakers, producers, presenters, activists, organizers and movie-lovers at our annual Filmmaker Caucus.  All are welcome — whether you are participating in the screening series or just interested in hearing about a range of projects and meeting other people creating progressive change through film.
Led by Justin Krebs of Screening Liberally, one of the many projects of Living Liberally.
Moderator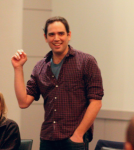 Justin Krebs is political writer, organizer and entrepreneur. He is a campaign director at MoveOn.org, with a focus on economic issues. He is a founder of Living Liberally, the network of progressive social communities across the country and around the world, including Drinking Liberally happy hours, Laughing Liberally comedy shows and Screening Liberally films. He is also the author of "538 Ways to Live, Work and Play Like a Liberal" and an upcoming book with the New Press. This is his 10th Netroots Nation.
Other sessions: Reel Action to Real Action: A Showcase of Activism and Film