Expanding Online Voter Registration
Session Type(s): Panel
Starts: Saturday, Jul. 19 3:00 PM (Eastern)
Ends: Saturday, Jul. 19 4:15 PM (Eastern)
Our antiquated voter registration systems present a key barrier to youth participation. The good news is there is some momentum for updating our voting systems. By almost every measure, the online voter registration was a success in 2012. In just one month before the voter registration deadline, 839,297 Californians registered to vote or updated their voter registration online. This panel will share some of the lessons learned in California about dos and don'ts with online voter registration implementation and how to maximize its effectiveness to boost participation, particularly among younger voters.
Moderator

Sujatha Jahagirdar is a national expert on young voter participation, with more than 15 years of experience organizing college students. She has appeared widely in major media outlets, including The New York Times, Washington Post, Los Angeles Times, and News Hour with Jim Lehrer, providing analysis of youth voting trends and mobilization techniques. She has also testified before Congress regarding the importance of reducing barriers to young voters at the polls.
Sujatha currently works as the Political Director for the Student Public Interest Research Groups. Prior to that position, she served as the Program Director for the Student PIRGs' New Voters Project, the nation's largest grassroots nonpartisan youth voter mobilization program. Sujatha graduated with distinction from Yale University with a Bachelor of Science.
Panelists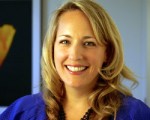 Catherine Hazelton is a Senior Program Officer at the James Irvine Foundation where she developed the Future of California Elections and guides several elements of Irvine's California Democracy grantmaking. Catherine has worked on numerous political campaigns including Hillary Clinton's 2008 presidential. She spent five years working for the California legislature, guiding several efforts to empower women and improve higher education and public safety. As Associate Director of Fight Crime: Invest in Kids, Catherine advocated to expand early childhood programs. She has served on several nonprofit boards and was appointed to California's Physician Assistant Board by Assembly Speaker John Perez. Catherine completed her MPP at UC Berkeley and bachelor's in history at Scripps College. At Pasadena City College she trained hundreds of fellow students in grassroots advocacy and lobbying. Her research on redistricting and women in politics has appeared in the Los Angeles Times and San Francisco Chronicle.