The Battle for the Midwest: Where We've Been, What We've Learned and How We Bring Labor Back
Session Type(s): Panel
Starts: Thursday, Jun. 20 12:00 PM (Eastern)
Ends: Thursday, Jun. 20 1:15 PM (Eastern)
Labor found itself under siege in 2012 with the loss in the Wisconsin recall election and the passage of Right to Work laws in Indiana and Michigan. These laws have immediate implications for both the workers they disempower and the unions they attempt to dismantle. Left unchecked they will stifle the voice of labor, and irrevocably skew the electorates of these key states in the wrong direction. One has to look no further than Governor Snyder's justification for signing the law ("We have to keep up with Indiana!") to see the threat of a domino effect, with states like Ohio and Pennsylvania next in line. How we settle these disputes in the Midwest will set the tone for how we move the national economy forward. Find out how progressives will contain the damage done and recover the losses sustained.
Moderator
Julielyn has been involved with Democracy for America since 2010 when she began training organizers and candidates at Campaign Academies across the country. She joined the training department full-time in December 2011 as the Training Director and then became the Chief Engagement Officer in 2013. She has over a decade of experience as both a nationally recognized trainer and new media strategist. She's worn many hats working with progressive organizations and campaigns all over the country, including labor groups, equality organizations, civil rights, and health care initiatives.
Panelists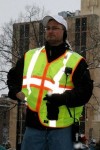 Bob spent fifteen years with the NEA affiliate Wisconsin Education Association Council (WEAC) as a Political Specialist and as Director of Government Relations. He also co-founded One Wisconsin Now, a Progress Now media hub affiliate, and Advancing Wisconsin a field-based ground game hub. In 2009, Bob joined the NEA Campaigns and Elections team as an Organizational Specialist. Since then, his Midwestern work has spanned the sates of IL, MI, MO, MN, SD and WI. His current work also includes some southern and western states.
Karli jumped into political organizing with both feet in early 2008, when what started as a volunteer opportunity supporting Barack Obama in the Minnesota Super Tuesday primary quickly turned into a full time (and then some) position doing field work for OFA in the critical state of Ohio. Since then, she has organized around a wide variety of progressive candidates and issues in a number of Midwestern states. She is most proud of the work she has done in her home state of Wisconsin – first, working for former Sen. Russ Feingold; then organizing protests, petitioning and recall campaign activities for SEIU, MoveOn PAC and DFA in the wake of the passage of Scott Walker's union-busting legislation.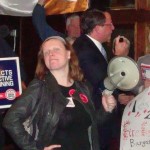 Sara is the Michigan Campaign Communications Director for the AFL-CIO. She previously served as the Wisconsin State AFL-CIO's Communications Director, and began her work in the labor movement as an Organizer with AFSCME.