Stories to Save the World
Session Type(s): Training
Starts: Thursday, Jun. 20 1:30 PM (Eastern)
Ends: Thursday, Jun. 20 2:45 PM (Eastern)
It's well known that stories are one of the most influential methods of communication. You may not realize it yet, but your campaign or organization is sitting on a gold mine of powerful stories just waiting to be told. This training seeks to empower campaigns and advocacy organizations to utilize members' stories to bolster campaigns in both powerful and original ways. We'll begin by exploring the power of your story and how you can use it in your work. We will also explore how to use email and social media to identify members with compelling stories to tell. Then we'll go through best practices for engaging your members, and then selecting and developing the best possible narratives. Finally we'll use case studies from well known progressive organizations to demonstrate how to effectively use these stories in your campaigns.
Trainers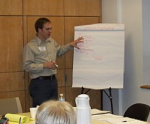 Matt managed his first campaign at 19 while a student at the University of Iowa and has never stopped organizing. At 31 he is a nationally known progressive organizer with experience in Field, Fundraising, Training and Online Organizing for numerous campaigns and organizations including the DNC, MoveOn.org, Russ Feingold, Jon Tester, Annette Taddeo, and No on 1 (Marriage Equality in ME).
From 2007 though 2011 he served as the National Training Director & Field Director at Democracy for America -organizing 87 trainings in 37 states and mobilizing DFA's million plus members to elect progressives at all levels of office.
Matt is proudly serving his second term as a Board Member at Democratic GAIN, the premier organization for connecting talented staff to campaigns and organizations in need.
A recent transplant to the Chicago area, he most recently worked as the Field Director for Ilya Sheyman for Congress in IL-10.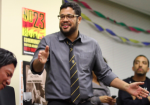 Julian works with people around the country who are putting government investment dollars to work on a local level to build the green economy. He trains local leaders to build the green economy from the ground up by serving as a lead trainer for the Green For All Fellowship program and College Ambassador program. He trains leaders with the tools they need to communicate the promise of the green economy and to engage disadvantaged communities in support of green jobs and climate protection strategies. He recently took a leave of absence from Green For All to take these trainings to Vietnam, South Africa and Uganda through the Million Person Project.