Police, Prisons & Profits – A Showcase of Social Justice Shorts
Starts: Friday, Jun. 21 6:00 PM (Eastern)
Ends: Friday, Jun. 21 7:15 PM (Eastern)
Films are an effective way to engage new audiences, communicate dynamic ideas and provoke conversation. See short segments of films that seek to influence the debate, learn about the work and share thoughts on impact, distribution, partnerships and the potential to turn reel action into real action.  Lineup subject to change.
Immigrants for Sale – In hyper-kintenic type and graphics, the short video unearths the intersection of lobbying, nativism, and prison profiteering seen anti-immigrant legislation like Arizona's SB1070. Presenter: Axel Caballero

Prison Profiteers – The prison system has become a multi-billion dollar industry in the United States, which now has more prisoners than any nation on earth. Prison Profiteers is a video series showing who's benefiting from our nation's addiction to incarceration. Our videos will profile the private prisons that allow horrific conditions, a phone company that gouges prisoners and their families, and even Marco Rubio — a politician who has received massive donations from the prison industry while helping it get government contracts. The losers in this system are the poor, people of color, and the taxpayers funding it all. Our videos will feature a combination of motion graphics, expert interviews, and the stories of those who've been victimized by the prison system. Presenter: Jesse Lava

Unreasonable Suspicion – In 2011, the NYPD made over 684,000 street stops in the controversial policy of Stop-and-Frisk. Most stops occur in Black and Latino neighborhoods and Blacks and Latinos are significantly more likely to be stopped than White people. Unreasonable Suspicion explores the causes and effects of Stop-and-Frisk as produced, documented, and directed by a group of NYC High School youth. In the summer of 2012, students from the Peapod Adobe Youth Voices Academy at Urban Arts and LatinoJustice PRLDEF, set out to create a short student documentary examining the impact of Stop-and-Frisk on NYC youth. Students met with attorneys from LatinoJustice PRLDEF to understand the policy of Stop-and-Frisk and learned what to do if they are stopped and frisked by NYPD. Students met with public figures, university professors, and community leaders to examine the impact of Stop-and-Frisk policies. Academy students developed high level film and media skills through intensive instruction in pre-production, production, and post-production phases of filmmaking. Presenters: Armando Somoza and Jazmin Chavez

Moderator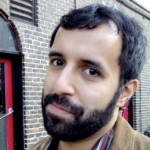 Daniel Villarreal has worked as an e-journalist for the last six years on such sites as MetroWeekly.com, DallasVoice.com, Queerty.com and Bilerico.com. He has also taught about blogging, media literacy and creative writing at Austin College and Get Equal's 3rd Annual Harvey Milk Day Conference.
Panelists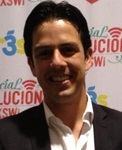 Axel is the founder, director and producer of Cuéntame, a non-profit media organization for the Latino community. He also runs MetaforaPolitica.com, a blog en español that serves as a forum for public opinion. His use of multimedia platforms invites the online gente to get involved in their communities, instigating political action. For over 10 years, Axel has been active on diverse campaigns issues from nuclear disarmament, environmental protection, immigration to human rights and Latin American affairs, with an emphasis on using film and visual mediums to do so.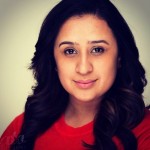 Jazmin Chavez is cultural and social media strategist in New York City. She is currently the Communications, Civic Engagement and New Media Coordinator at LatinoJustice PRLDEF, a national Latino civil rights organization, based in NYC. Jazmin has been published in Huffington Post Latino Voices, Being Latino, LatinoRebels and Fox News Latino. Jazmin has been organizing online since 2004 where she worked on registering Latino voters in the Southwest. In 2012, Jazmin partnered with Urban Arts Partnership to create the New Media Youth Leadership Network at LatinoJustice PRLDEF. The YLN invites young people to become active participants in their lives, community and education. From political empowerment to social media movements, youth leaders develop their political voice, engage directly affected young people, deepen public understanding and become decision-makers on issues that impact them directly. Jazmin lives in Harlem with her husband and her two red-eared sliders.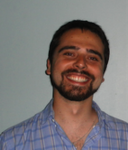 Jesse conceptualized and runs the Beyond Bars campaign to curb mass incarceration. His work includes strategic planning, producing videos, writing articles, and forging partnerships with groups working to make a positive difference in this field. Previously a political campaign staffer and communications strategist for progressive causes, his work has covered an array of policy areas including climate change, campaign finance, drug treatment, and funding for social services. Jesse was also the founding director of Faithful Democrats, a group that worked to reclaim the national values debate from the Religious Right. He has a master's in public policy from Harvard and a bachelor's in government from Wesleyan University.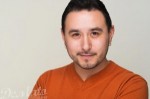 Armando Somoza is a NYC-based new media artist, social entrepreneur, and educator and has committed his life's work to the empowerment of young people through the fusion of education and the creative arts. He is committed to the creative application of digital technologies as an agent of provocation, education, community empowerment, and change. Armando holds a MFA in Electronic Media, Art & Design. He serves as the Program Manager of The Academy at Urban Arts Partnership. The Academy is a program for high school students rooted in social-justice and designed as a space for advanced art programs, leadership development, and academic excellence. The Academy's mission is to promote the intellectual, social and artistic development of underserved public school students and close the achievement gap by delivering cutting-edge arts programs designed to develop student voice, strengthen academic performance and position graduates as agents of change in their communities.