A Nation in Trans-ition
Session Type(s): Panel
Starts: Friday, Jun. 21 6:00 PM (Eastern)
Ends: Friday, Jun. 21 7:15 PM (Eastern)
Join us as leaders in the transgender and allied movement are working to integrate transgender issues into the mainstream civil rights agenda. You'll hear from leaders who are working on progressive issues outside of their own transgender work and from leaders in the movement who run some of the best-known organizations in the community. At this panel, you will learn about the successful legislative and organizational campaigns and how to include the transgender community in your own work.
Moderator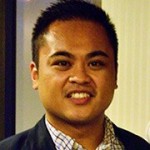 Vincent is the director of communications for the National Center for Transgender Equality, responsible for the organization's communications strategy and brand management. Vincent joins NCTE from the Center for American Progress where through the youth organizing arm, Campus Progress, he executed over 150 political, cultural and advocacy events that advance progressive policies in higher education, climate change, immigration and LGBT equality. While at Campus Progress, Vincent spoke across the country, training hundreds of students on campus organizing, lobbying and communications.
Panelists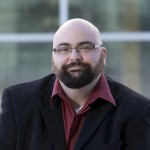 As Executive Director of Transgender Law Center, Masen Davis brings over two decades of leadership and activism in the movement toward LGBT equality. Since beginning this role in 2007, Davis has expanded Transgender Law Center's annual operating budget from $385,000 to $1.4M thereby increasing the richness and expanding the impact of the organizations multidisciplinary programs.
Under his direction, TLC's impact litigation secured groundbreaking federal protections in 2012 against employment discrimination for transgender and gender nonconforming people under Title VII of the 1964 Civil Rights Act. From securing $1M in public funds for transgender employment programs, to sweeping changes to California law under the 2011 Gender Nondiscrimination Act, to unprecedented healthcare access initiatives for transgender people within the State – Masen's leadership has had a tremendous and positive impact on countless constituents. Masen works tirelessly as a preeminent voice in local, state and national forums and is increasingly identified as an international leader in the trans equality movement.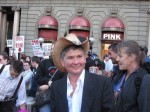 -Gabriel Haaland is the Co-Vice President of Pride at Work, a constituency group of the AFL-CIO which works to mobilize mutual support between organized labor and the LGBT community.
While attending Hastings College of the Law, he came out as transgender and interned at the Human Rights Commission and went to the first ever San Francisco Transgender hearings held in 1994..
-During this time, in collaboration with transgender community vocates starting in 1997, he started working on securing transgender health benefits for City Employees. Their efforts were successful and in 2001, SF became the first jurisdiction to provide transgender health benefits.
-Gabriel has worked for the last 11 years at SEIU.
-A former Community Grand Marshal for the Pride Parade, and a former President of the Harvey Milk LGBT Democractic Club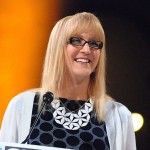 An award winning social entrepreneur and movement strategist, Allyson Robinson has built a career advising and leading organizations on the vanguard of social change. She is founder and principal of Warrior Poet Strategies, a Washington, D.C. based consulting firm advising select clients in organizational design, diversity and inclusion, and social and civic entrepreneurship. Prior to founding Warrior Poet she led internal and external diversity initiatives at the Human Rights Campaign and was the first transgender person to lead a national LGBT organization as executive director of OutServe-SLDN. She's also served as an Army officer and Baptist pastor, studied at West Point, Arizona State, and Oxford University, and earned degrees in physics and theology.