How Sports Shapes Our Politics and Why It Matters
Session Type(s): Panel
Training Tag(s): Organizing & Movement Building, Arts & Culture
Starts: Saturday, Jun. 9 1:30 PM (Eastern)
Ends: Saturday, Jun. 9 2:45 PM (Eastern)
Can sports ownership actually shape the 2012 election? Can sports media's dominant racial narratives influence opinion on Barack Obama? Is Tim Tebow the most influential American challenging Roe v. Wade? Baseball's integration once influenced desegregation; Billie Jean King promoted advances in gender equality; and sports owners and local politicians perfected a "welfare for billionaires" movement that helped shape broader public policy. Today, millions of Americans learn about government abuse through a steroids trial, institutional racism and exploitation through college athletics and the consequences of unchecked power and privilege through a Penn State "scandal." This panel will address how sports shapes our national discussion and share examples of netroots, grassroots and legislative responses. Discussion will include roles of sports owners to sports mascots, white male privilege in sports media and the progressive blogosphere's potential to embrace sports coverage as print media previously did.
Moderator
Charles Modiano is a writer, lecturer, and trainer dedicated to promoting equity in sports media coverage. Through workshops and as co-founder and editor of POPspot.com, he examines how an influential sports media actively perpetuates systems of power and privilege through biased and prejudicial reporting practices. Charles is the President of Career Skills for Youth, an organization dedicated to advancing the career readiness and employment opportunities for young people. As an accomplished staff trainer and organizational coach, Charles has developed, managed, and supported numerous training initiatives, both nationally and internationally. His interests in sports media reflect his personal passion for sports, and its profound influence on positive youth development. His first book on bias in sports media is due out in 2012.
Panelists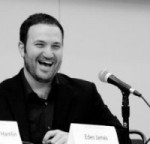 Eden James is a Campaign Director at Change.org, the fastest-growing social change platform on the web, empowering more than 10 million members around the world to start, join, and win their own campaigns. From 2007-2010, Eden directed new media strategy and staff as Managing Director of the Courage Campaign, an online organizing network mobilizing more than 700,000 members to push for progressive change and full equality. In 2006, Eden served as Online Communications Director for Jerry McNerney's successful congressional upset victory over Rep. Richard Pombo (CA-11), helping McNerney raise more than $1 million online. Prior to 2006, Eden served as Online Marketing Manager at CREDO Action and organized in support of Gov. Howard Dean's presidential campaign in California and Iowa. In 2003, Eden graduated from UC Berkeley with a degree in Political Science.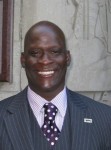 Dr. Moore currently serves as Director of Diversity at Brooklyn Friends School (www.brooklynfriends.org) in Brooklyn, NY. He earned his Ph.D. in Education: Social Foundations from the University of Iowa. His dissertation research topic: The Educational Experiences of African-American Football Players at Small Colleges in the Midwest. Eddie is an ex-student-athlete and remains committed to the influence of athletics and academics in the lives of all students. Eddie is a dynamic and personable diversity consultant and public speaker. Dr. Moore has also been a workshop presenter/facilitator for many organizations and conferences concerned with Education, Diversity, Privilege and Leadership. Eddie's presentations are interactive, informative, challenging, and motivating. www.eddiemoorejr.com.
Diane Williams is a History and Global Studies teacher and coach at The Williston Northampton School, in Massachusetts. She is currently creating a Sports Studies advanced elective for high school seniors, and previously taught Sports and the American Dream at Smith College. Williams holds degrees in Social Justice Education (M.Ed., University of Massachusetts, Amherst) and Exercise and Sport Studies (M.S., Smith College). She was an Associate Producer on the Media Education Foundation's, Not Just a Game: Power, Politics, and American Sports and authored "Revolution on Eight Wheels," an article on roller derby, published in The Nation. Williams spent her college years as an All-American student-athlete, has coached and officiated at the collegiate and high school levels, and currently skates with Pioneer Valley Roller Derby.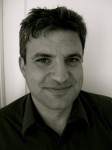 Named one of UTNE Reader's "50 Visionaries Who Are Changing Our World", Dave Zirin writes about the politics of sports for the Nation Magazine. He is their first sports writer in 150 years of existence. Winner of Sport in Society and Northeastern University School of Journalism's 2011 'Excellence in Sports Journalism' Award, Zirin is also the host of Sirius XM Radio's popular weekly show, Edge of Sports Radio. He has been called "the best sportswriter in the United States," by Robert Lipsyte. Dave Zirin is, in addition, a columnist for SLAM Magazine and the Progressive.