Email for the Win!
Session Type(s): Training
Starts: Thursday, Jun. 7 10:30 AM (Eastern)
Ends: Thursday, Jun. 7 11:45 AM (Eastern)
Everyone knows email is one of the most important tools in an organizer's arsenal, but not everyone knows how to build a successful email program. This training will cover techniques for growing and managing a list of active supporters, and getting the most you can out of every email sent. We'll look at concrete examples, and attendees will come away with solid ideas for improving their own programs and using email to win campaigns.
Trainer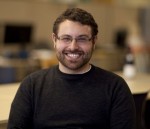 Matt Lockshin is a campaign manager and online organizer at CREDO Action, where he runs progressive issue advocacy campaigns.
At CREDO, Matt has led efforts to quintuple the size of the e-mail list during his tenure to 2.9 million people.
Matt began his online organizing career at It's OUR Healthcare, a statewide health advocacy coalition in California. Prior to joining CREDO, Matt was the Director of Online Organizing for the California Democratic Party.
Matt cut his teeth as a grassroots volunteer and organizer, and was the founder and principal author of the blog Say No to Pombo from October 2005 until June 2006. He studied philosophy at the University of California at Berkeley and currently resides in Oakland.