The Battle for Congress: Q&A on the 2012 Elections
Session Type(s): Panel
Training Tag(s): Elections
Starts: Thursday, Jun. 7 3:00 PM
Ends: Thursday, Jun. 7 4:15 PM
Room: Ballroom B
The editors of Daily Kos Elections invite you to join them for an in-depth Q&A about the 2012 elections. Thirty-three Senate seats and all 435 seats in the House are up for grabs (plus 11 governorships). We'll take questions on all topics: polling, fundraising, redistricting, who's in, who's out and who's likely to win. If you want to know more about what's going to happen in November—and what it will mean for Democrats, Republicans, and the entire country—come to this panel!
The Battle for Congress: Q&A on the 2012 Elections
Miss this panel? No problem! Here's what happened.
Storified by Netroots Nation · Thu, Jun 07 2012 16:55:57
The panelists fielded a wide range of questions about congressional races across the country.
"Outside spending is going to be a major factor in John Tester's #MTSen race. Major tossup." -@DavidNir #nn12evanmoody
Good comments from @stevesingiser about #txsen Republican run-off in @DKElections panel. #nn12Katherine
At #nn12 elections q/a. I want to ask who they think will be next on the Iron Throne. #gameofthrones @LauraClawsonChristian Norton
@YJCarmon it was a panel run by the @DKElections folks. It's insane how much off the cuff knowledge they had of the most obscure races.Yahel Carmon
Moderator
David Nir is political director of Daily Kos, the largest online progressive community in the country. He oversees the site's elections coverage and publishes its highly regarded newsletter, the Morning Digest, which covers every important competitive race around the country and goes out to over 90,000 subscribers daily. He is also responsible for the site's candidate endorsement program, which has raised almost $4 million in small donations for Democrats running across the nation this year. David is lifelong New Yorker, Democrat, and Mets fan.
Panelists

Laura Clawson is the labor editor at Daily Kos. Previous. she was senior writer at Working America, the community affiliate of the AFL-CIO. She has a PhD in sociology from Princeton University and has taught at Dartmouth College and the Princeton Theological Seminary. She is the author of "I Belong to This Band, Hallelujah: Community, Spirituality, and Tradition among Sacred Harp Singers."
Arjun Jaikumar has been a Contributing Editor at Daily Kos since December 2007, focusing primarily on electoral politics. From 2009 to 2010 he worked as Netroots Outreach Director at the Democratic Senatorial Campaign Committee. He is a graduate of Northwestern University and is currently pursuing a J.D. at Columbia Law School. Having lived in the districts of Barney Frank, Jan Schakowsky, Bob Menendez, Carolyn Maloney, Eleanor Holmes Norton, Michael Capuano, Ed Markey, and Charles Rangel, Arjun has never been represented by a Republican in the House.
Jeffmd is a law student who has just finished drinking from the firehose that is the first year of law school, but also, more relevantly here, an Editor of Daily Kos Elections. Jeff focuses on quantitative analysis and data presentation, much as he did for its predecessor, Swing State Project. Redistricting holds a special place in his heart, after being saddled with a particularly odious Representative after the 2002 remap in his home state of Maryland (to which the 'md' in his nom de blog refers). When not reading cases, Jeff can usually be found eating (or thinking about food), singing to himself (to the chagrin of those around him), or pondering the Federal Rules of Civil Procedure (Rule 12 is his favorite).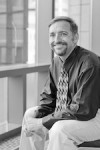 Steve Singiser has been a contributing editor at Daily Kos since 2009. Though most of his work can be found at Daily Kos Elections, he also can be read from time to time at Daily Kos Labor. Steve has been a teacher and coach in the Los Angeles area since 1997, and he makes his home there with his wife Kristina and their children Cody and Makenzie. After losing nearly 100 pounds, he developed a love for distance running, and will break into the sub-21 minute bracket in the 5K, or collapse heading in that direction.