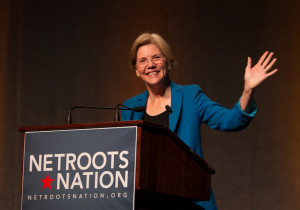 If you're a Netroots Nation regular, you already know Senator Elizabeth Warren. She joined us in 2010, just days after President Obama signed into law the new agency she had been advocating for, the Consumer Financial Protection Bureau. And she joined us two years ago in Providence, as a candidate for the U.S. Senate seat she now holds.
We are excited to announce that Sen. Warren will join us for a third time this summer for Netroots Nation 2014. She will speak Friday, July 18 at 10 a.m. 
If you haven't gotten your ticket, click here to register now.
Her visit to Netroots Nation comes on the heels of the release of her first book, "A Fighting Chance," in which she shows why she has chosen to fight tooth and nail for the middle class.
In addition to hearing from the first female Senator from Massachusetts, attendees will have access to 80 panels (announcements on those coming soon!) and 40 hands-on training sessions, which we released last week. And we'll be releasing more keynote speakers in the coming weeks.
We can't wait to hear from one of our country's biggest progressive champions. I hope you're planning to join us in Detroit.