One of the biggest pieces of our programming at Netroots Nation is our training track, led each year by some of the top organizers and experts in the movement. This year, we're offering 40 hands-on trainings on topics ranging from data and analytics to field organizing to graphic design, messaging and more.
Our 2014 trainings cover a breadth of skill levels, from basic online organizing to advanced, as well as topics like testing and optimization, communications and grassroots organizing. We've also categorized our online organizing sessions into basic and advanced tracks, allowing attendees to better tell which sessions will be tailored to their experience levels. 
Click here to see all 40 of our trainings for Netroots Nation 2014.
Trainer Diversity
At the beginning of the selection process, we set two main goals for our trainings: 1) that we would have more women trainers than last year, and 2) that the ethnic representation across the board would be more representative this year.
Last year was the first year we featured more women trainers than men. We were able to increase that number by 10 percent this year. Thirty-nine of our 63 trainers are women (62%), compared to 24 male trainers (or 38%). This is a pretty big jump, and one we hope makes a statement on the importance of women's expert voices being heard.
In 2013, 61 percent of our trainers were white. That number is a bit lower this year (59%), but the percentage of African American trainers doubled since last year (8% in 2013 to 16% in 2014). The percentages of Hispanic, Asian-Pacific Islander and multi-ethnic trainers either remained consistent or increased slightly from last year.
The gender and ethnicity breakdowns for our 2014 trainers are below: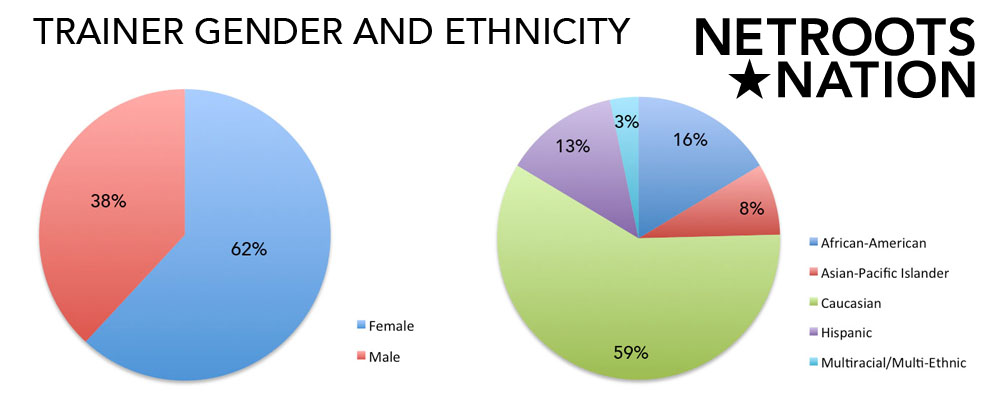 We'll continue to build on those numbers each year. Thank you to all who submitted trainings for consideration!