Our 2014 panel submission process just ended, and we wanted to take a minute to share a few data points about the submissions. We ended up with about the same number of submissions as the past couple of years (372 panels, 106 trainings, 13 Screening Series ideas), but the gender and diversity breakdown and breadth of topics are more balanced than in years past.
This is just a starting point. The panel submission process (an almost two-month marathon) allows for us to make changes to sessions that will improve these numbers even more. We'll share the final results at the end of the process.
Gender
Last year was the first year ever where Netroots Nation featured more women as speakers than men (we also had more women panel organizers than men in 2013). That holds true again for 2014. Of the panels submitted in 2014, 953 of the proposed speakers are women (60%), 602 are male (38%) and 44 are not identified or identify as other (3%). That breakdown looks something like this: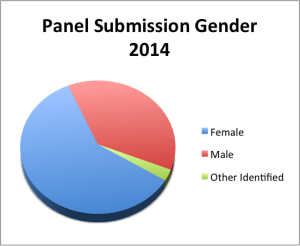 We've also got a comparison of speaker gender in 2013 and 2014. This represents almost a 10% increase in women from 2013.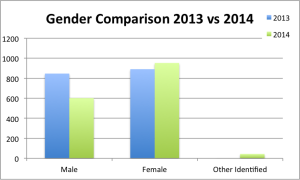 Ethnicity
The ethnicity of speakers submitted has improved over past years as well. While there is still a majority of Caucasian speakers submitted, the diversity has improved over 2013, particularly among African Americans. About 20 percent of proposed speakers are African American and about 20 percent are API, Hispanic, Native American or multi-racial.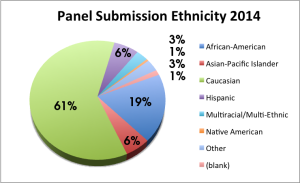 During the panel selection process, we have a chance to make those numbers even more diverse. For example, if a panel only has one or two speakers of color, we can go to the panel organizer and ask that they improve the diversity. It's our goal to make Netroots Nation more diverse every year so that our speaker list is much more representative of what our country really looks like.
Topics
We also created word clouds from the panel and training titles to show the breadth of topics submitted. Obviously we can't take every panel submitted (we have to get them down to 80 panels and 40 training sessions), but it's interesting to see some of the common themes that pop up in the submissions.