As activism for police accountability, fair wages, just immigration, and more takes center stage, social justice movements are using technology to achieve greater scale and reach wider audiences.
In an age of big data and digital technology, do these strategies build power for long-term social change or are they helping maintain the status quo? Does the Internet disrupt racism or enforce a new era of Jim Crow?
At Netroots Nation, we'll dig into this topic during a Friday plenary session organized by our friends at the Center for Media Justice. This keynote conversation—The Digital CultureSHIFT: Moving from Scale to Power to Achieve Racial Justice—is scheduled for Friday, July 15, at 2:30 p.m.
You'll hear from leaders on the front lines of the 21st century movement for racial justice and civil rights, including Color of Change's Rashad Robinson, Linda Sarsour of MPower, Shanelle Matthews of Black Lives Matter, Joe Torres of Free Press and Malkia Cyril from the Center for Media Justice. The session will be moderated by Samhita Mukhopadhyay of mic.com.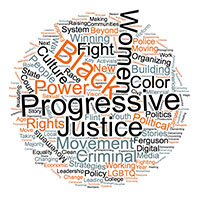 After almost two months of reading and scoring hundreds of panel submissions, we're proud to announce the ones chosen to be presented at Netroots Nation this summer—and the most diverse group of speakers in our 11-year history.
Racial justice is front and center in our agenda this year. You'll find sessions calling out the policies that cemented the racism that's still prevalent today, as well as panels that highlight the powerful organizing being done around the country in the movement for Black lives. Here's just a few of the panels that were chosen:
Black Voices, Black Victories: Changing the Story on Race in a Digital Age
The Racist Policies that Built Ferguson (and Baltimore and Flint)
Justice at the Ballot Box: How Holding Prosecutors Accountable in Elections is Key to Criminal Justice Reform
A Father's Perspective: Police Terrorism Against Children of Color
From Ferguson to Flint: Building Black Political Power in Flyover Country
The lineup also features lots of sessions that challenge us to reject the status quo and build a better movement, including these panels:
How to Have a Conversation About Race Without Everyone Running Out of the Room
Authentically Engaging with Trans* Leadership in Progressive Organizing
Rejecting the Pale, Male and Stale Leadership Pipeline: A Roadmap to Building Inclusive Organizations
We'll have panels covering the future of the Supreme Court and next steps for the LGBTQ movement, as well as sessions expanding and challenging the media narrative around issues like abortion and paid family and medical leave. You'll have a chance to hear from those seeking to take the Bernie revolution to Congress, and you'll even have a chance to ask questions of some of the movement's top funders.
We can't list them all here, so click here to view all the sessions on tap for this summer's conference.
Speaker Diversity
Our speaker list for 2016 is the most diverse ever: 65 percent of our panelists are people of color and 65 percent are women, compared to 62 and 63 percent in 2015 respectively. Thirty-five percent of our panelists are Black, a 17 percent increase over the year before.
If you missed our announcement about our training program a few weeks ago, 64% of our trainers are people of color and 74% of our trainers are women—both an increase over 2015.
A quick comparison on our gender breakdown: 2013 was the first year that we featured more women panelists than men on our agenda; and this year, 65 percent of panelists and 74 percent of trainers are women. And this year, 8 percent of our panelists identify as trans*.
The full gender and ethnicity breakdowns for our 2016 panelists is shown below.