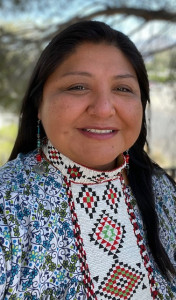 Director/Tribal Archaeologist/THPO
San Carlos Apache Tribe

Vernelda J. Grant is an enrolled member of the San Carlos Apache Tribe. She received her undergraduate degree in 1996, in Cultural Anthropology with a minor in English and in 1999, a Master's degree in Applied Anthropology with an emphasis in Southwestern Archaeology from Northern Arizona University. In March 2000, Vernelda returned to her Tribe creating a new position and a new tribal Department. It has been a lifelong goal to work for her people as the Director and Tribal Archaeologist of the Historic Preservation & Archaeology Department. In 1996, Vernelda interned with the Smithsonian Institution's National Museum of Natural History Repatriation Office in Washington, DC. Vernelda has served three terms on the Arizona Governor's Archaeology Advisory Commission, was appointed to the Advisory Council on Historic Preservation (DC Office) Native American Advisory Group, is an ambassador with the Americans for Indian Opportunity, and has served as Chair of the National Congress of American Indians Commission on Repatriation and Burial Sites Protection. In 2009, Vernelda was selected to participate in the Center for Progressive Leadership program where she was advised on active approaches in governance and legislative matters that affect cultural resources, historic preservation, repatriation and human rights laws. Ms. Grant is active in grassroots, tribal, state, federal government-to-government work and consultation, and has testified in the general assembly of nation-states at the United Nations in New York City. Her extensive working knowledge and experience in cultural resource management including her formal training in anthropology and archaeology helps Vernelda to advocate for the protection and preservation of culture, language and history as well as sacred and holy places and landscapes important to the existence and spiritual livelihood of the San Carlos Apache Tribe, all Native American Tribes and Indigenous Peoples. She lives in Peridot, Arizona close to her family who have served as her role models and encouraged Vernelda of the importance of education, leadership and strength through prayer.
Netroots Nation participation