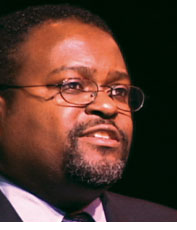 Senior Political Strategist
Democracy Inititiative

As one of the nation's leading voting rights advocates Greg Moore has led successful efforts through grassroots organizing and voter mobilization at all government levels. As the Senior Political Strategist for the Democracy Initiative Greg focuses on voting rights, building constituent convergence in money in politics while working with allied partners to reform Senate legislative rules. He also continues to direct of the NAACP National Voter Fund (C 4) advocacy and voter engagement programs. While serving as Deputy Director for the Democratic National Committee Moore was instrumental in developing the party's voter registration and voter outreach programs. Further, he served as the Legislative Director and Chief of Staff for the Honorable John Conyers, Jr. (D), the ranking member of the U.S. House Judiciary Committee, (MI-14th) and Dean of the Congressional Black Caucus.
Netroots Nation participation
Netroots Nation 2018
Netroots Nation 2015
Netroots Nation 2014