Need a little help getting to Netroots Nation? No problem! We have several programs designed to make sure that price is never a barrier for attendance.
Scholarships
Each year, Netroots Nation provides hundreds of registration waivers to individuals that otherwise may not be able to attend. In 2020, we plan to offer both full and partial registration waivers to help cover the cost of registration for Netroots Nation (these waivers do not cover travel or accommodations).
If you are interested in attending NN20 but the cost of registration would keep you from coming, we urge you to apply. You should receive a confirmation of your application's submission right away.
Click here to apply for a registration waiver (partial or full).
In granting waivers, either full or partial, we favor applicants who are youth, activists of color, locals or who come from under-resourced communities.
We'll grant the first batch of waivers on May 29; the second batch on June 30; and the third batch on July 31. On May 29, everyone who has applied before that date will hear from us about their application. On June 30, we'll send decisions to those who applied between May 29 and June 30. On July 31, we'll email the final decisions about waivers. Applications will close on July 31.
Volunteer Program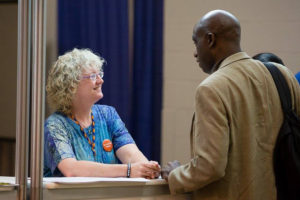 We also offer deeply reduced registrations through our volunteer program. In addition to getting a little help with your ticket cost, volunteering at Netroots Nation is a great way to meet other attendees—plus it's a ton of fun! Volunteers help with a variety of tasks throughout the conference, including staffing the registration desk, helping with set-up, and stuffing registration bags.