Need a little help getting to Netroots Nation? No problem! We have several programs designed to make sure that price is never a barrier for attendance.
Scholarships
Each year, some of our generous sponsors step up to help offset the cost of registration for those who need it. Special thanks to Demos, DCVote, the United Steelworkers, Netroots Connect and Credo Action helping us provide more than 300 scholarships for NN18!
We'll have more information about scholarships for Netroots Nation 2019 soon.
Volunteer Program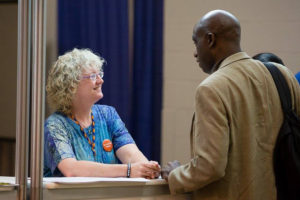 We also offer deeply reduced registrations through our volunteer program. In addition to getting a little help with your ticket cost, volunteering at Netroots Nation is a great way to meet other attendees—plus it's a ton of fun! Volunteers help with a variety of tasks throughout the conference, including staffing the registration desk, helping with set-up, and stuffing registration bags.
Click here for more information and to sign up to volunteer.