Thank you for registering for Netroots Nation 2023!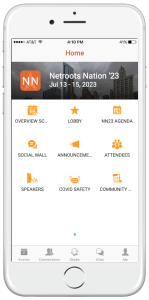 Everyone who has registered for the convention (either to attend in-person or virtually) should download the convention app, which can be used on a mobile device or through our desktop platform.
Click here to access the Netroots Nation app on your mobile device, tablet, laptop or desktop.
NOTE: You must log in using the same email address you used to register this year.
In an effort to create less waste, we are using the conference app instead of a printed program. The app is the best way to browse our panels and training and read about our fantastic presenters. Plus, you can create a personal profile, connect with other attendees, watch recordings of sessions and more:
Create your own conference schedule

Connect and chat with other attendees

See when and where your favorite speakers are presenting

Learn more about our fantastic sponsors and request follow-up

See who is exhibiting in our Town Hall—and where you can find them

Get breaking news from conference organizers

Access sessions that were recorded
For those who are joining us virtually, you'll use the app to watch select panels and daily keynotes (about 40 hours of content), plus you can connect and engage with those who are in-person as well.
If you used the conference app in the past four years, follow these instructions.  
If this is your first time attending Netroots Nation, follow these instructions to get started. 
For those joining virtually, we recommend the desktop platform for the best conference experience, but you can also access the conference from your mobile phone or tablet. For the desktop platform, Chrome works best. And remember, you must log in using the same email you used to register this year. We have created a document called Getting the Most Out of the App which you may find helpful.