Walmart workers are fighting back against intimidation and disrespect like this:
In an interview, she spoke of her struggle to make ends meet even while working fulltime at Walmart. She earns $11.65 an hour and is her family's only source of income since her husband was laid off. They and their five children rely on state assistance for housing, food and healthcare.

Walmart spokespeople have said that workers in Washington earn an average wage of $13 an hour. Gilbert said she knew of only a few people who earn that much, and they've worked for the company for decades.

Beyond a better wage, Gilbert said she wants to be treated with respect. She decided to speak out about work conditions after her manager came up behind her while she was bent, restocking shelves, and adjusted Gilbert's pants to cover some exposed skin.

Gilbert said the manager tried to turn it into a laughing matter. Gilbert complained, but she said no action was taken.

"They treat it like it's a joke, but it's not a joke to me," she said.
It's a simple proposition: people deserve to work with dignity and treated fairly. Walmart is one of the largest and most profitable corporations on the planet, and their workers deserve better.
Netroots Nation is helping OUR Walmart get the word out about workers taking actions across the country between now and Black Friday. The workers are causing a stur, getting a bit of coverage, and they've got lots of tools that allow everyone to take part. Here are a few things you can do: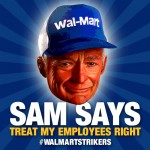 Wherever you are spending this holiday, stand with Walmart workers!