Projecting Power: Making Visuals Part of Campaign Strategy
Session Type(s): Training
Training Tag(s): Communications
Starts: Saturday, Jul. 15 2:30 PM (Central)
Ends: Saturday, Jul. 15 3:30 PM (Central)
Room: Williford B
Whether or not we realize it, our understanding of social movements is shaped by the images we see of them. Visual storytelling is one of the main ways movements communicate with our targets, the broader public and our own members. Often we struggle to plan and create visuals as part of a broader strategy. This training will help you make a plan to create the images we need to win, when we need them. We'll dig into how to create a visually rich movement culture, how to use photography, action staging, and other forms of imagery-making to meet campaign needs, and how planning visuals can bridge traditional comms/organizing silos.
Trainers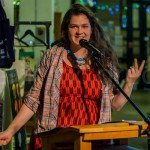 Rachel Schragis is a born and raised new yorker, former art educator and queer white Jewish extrovert. Previously to co-founding Look Loud, she was part of arts leadership teams for Sunrise Movement and the People's Climate March, and has helped lead art for dozens of direct actions and community mobilizations big and small. She is dedicated to the art of mind-mapping, and her most recent community- based poster project, "Unravelling Antisemitism" was recently released in partnership with Jews for Racial and Economic Justice. She is a recipient of the Robert Rauchenberg Artist-As-Activist award, an Earth Day New York Activist of the Year, and Grace Paley Community Organizing fellow at Jews for Racial and Economic Justice. She is also the co-founder of the Instagram project @Vent_Diagrams.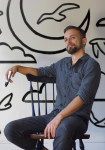 Josh Yoder grew up in the kind of rural Pennsylvania city, that only gets mentioned during presidential elections and conversations about fascism. He started organizing as a response to the bigotry of the war on terror, and anti-immigrant paranoia of the early 2000s.
Previous to co-founding Look Loud, he worked on visual strategy for Sunrise Movement, The Natural History Museum/Not an Alternative, The March for Science, the Public Society, and a half dozen anti-extraction campaigns. His work supports demonstrations in the street to be powerful in digital space. To make our actions reach people who haven't shown up yet. And to expand the aesthetic tent of social justice to include communities who do not currently see themselves represented.