When you send emails, post to social media or write for your organization's website, are you really capturing what is unique and powerful about your organization? Formal Institutional Voice has got to go—especially online. Through this training, you will develop your organization's personae so you can authentically connect with supporters and grow your presence. The tools shared in our training aren't only for organizations or candidates, they can also be applied to your own professional presence online.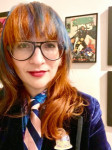 Elana is Program Director at New Media Mentors, the official trainings partner of Netroots Nation. Through NMM progressive organizations can access training in social media skills any time online.
Elana joins New Media Mentors after serving as digital director for labor unions and community based organizations and has lead trainings for over 4,000 progressives as co-founder of the Organizing 2.0 conference.
Listen to Elana's podcast about the intersection of comics, nerd culture and social change, Graphic Policy Radio, on any podcast platform.
Elana tweets about the labor movement, New York politics, online organizing and superhero comics at @Elana_Brooklyn.