Door Knocking in the Covid-19 Era
Session Type(s): Panel
Starts: Saturday, Aug. 20 2:00 PM (Eastern)
Ends: Saturday, Aug. 20 3:00 PM (Eastern)
In 2020, electoral organizing pivoted from door-to-door canvassing to digital interactions with voters. As the pandemic becomes more endemic, we see the return to in-person canvass operations. This session will focus on shifts in direct voter contact, provide strategic guidance from the field, and share best practices for safety and program design.
Moderator
Panelists
Han Jones (they/them) has been working in political campaigns in Virginia and across the country for the last six years, with the goal of electing progressive leaders who will serve as reproductive rights champions. Han earned their BA and MA from Brown University studying Gender and Sexuality, Public Policy and American Institutions, and Behavioral and Social Science Interventions. They are proud to be an Organizer at heart, having gotten their start in politics as an Organizer as part of the 2016 and 2017 elections in Virginia. Han has also managed campaigns and political programs in Virginia and beyond. When Han is not engaging in political work, they enjoy traveling, cooking, and spending time with their partner and dog, Ella.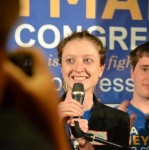 As the Electoral Director for Democracy for America, the million-member grassroots organization founded in 2004 by former DNC Chairman, Governor Howard Dean, Annie leads a team dedicated to electing strong progressives in critical races nationwide. She comes to DFA with over a decade of experience in organizing, campaigning and issue advocacy – as Chief of Staff for the advocacy foundation of the Congressional Progressive Caucus; as the Campaign Manager for Ilya Sheyman's top-tier 2012 Illinois Congressional run; and in a host of leadership roles at MoveOn.org, where she most recently spearheaded a new initiative to recruit talented leaders to run for office. As former National Organizer for Food and Water Watch, she built a fellowship program dedicated to fighting water privatization. She's a graduate of Green Corps, the Field School for Environmental Organizing, and Sarah Lawrence College, where she studied Dance and Environmental Policy.