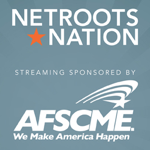 Netroots Nation officially kicks off today! If you aren't able to join us in Providence, we hope you'll tune in to our live stream from home and catch some of the sessions. The schedule of what's streaming is below.
FOLLOW AT HOME GUIDE FOR THURSDAY, 6/7
The following keynotes and panels will be streaming live. All times are eastern time. Full descriptions of each session are available here.
9:00am – 10:15am
10:30am – 11:45am
3:00pm – 4:15pm
4:30pm – 5:45pm
7:00pm – 8:30pm
Also, panel and keynote pages will be updated with tweets, video and pictures after the sessions.
JOIN THE CONVERSATION ON TWITTER
To follow the action on Twitter, follow @Netroots_Nation and search the #nn12 hashtag.
Thanks for watching from home!