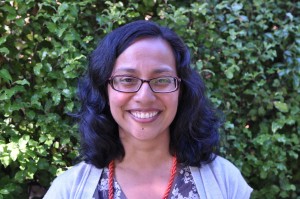 Aparna has worked for social change and expanded democracy for 16 years. She is Executive Director of Mobilize the Immigrant Vote (MIV), a multiracial California coalition that advances strategic, culturally-resonant, large-scale electoral campaigns to build the power and lift up the voices of immigrant communities with a shared vision of progressive values and social justice.
Previously, Aparna worked for the self-determination and reproductive justice of women, people of color, and queer communities, and spent several years working to transform San Francisco public schools into vibrant youth and community centers.
Aparna is an inaugural Fellow for a New California with the Rockwood Leadership Institute, has worked to build solidarity with democratic movements in Latin America, and holds a Masters degree from Johns Hopkins School of Public Health. She was born in Manila, raised in Mumbai, and is the proud mama of a four year old budding organizer, feminist, and soccer star!
Netroots Nation participation