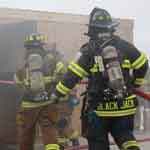 Planning to attend Netroots Nation this summer? Then consider coming in a day early for a free pre-convention activity on Wednesday: the second annual Netroots Nation Fire Ops 101 class.
Experience what it's like to be a first responder at this one-day fire fighting and rescue operation scheduled for June 19 from 8 a.m. until 3 p.m. It's for speakers, bloggers and media representatives attending Netroots Nation 2013 (you must be registered for Netroots Nation to participate in Fire Ops).
As political attacks on fire fighters heat up, the insights learned during Fire Ops will better prepare participants to respond to outrageous statements being made by some political leaders about fire fighters and their jobs and service to the community.
Participants will don fire fighter protective clothing (hoods and helmets, turnout coats, pants, boots), strap-on self-contained breathing apparatus (SCBA) and go to work, fighting actual fires, working in blackout smoke conditions, extricating victims and performing emergency medical care, giving you insight into what professional fire fighters and paramedics do every day and what they need to do their job and protect our communities.
This opportunity is sponsored by the International Association of Fire Fighters (IAFF), in conjunction with San Jose Fire Fighters Local 230, the San Jose Fire Department and Netroots Nation.
Click here to reserve your spot.