Presence and Authenticity: Media in the Age of Trump
Session Type(s): Training
Training Tag(s): Communications
Great actors save mediocre plays, but great plays never save mediocre actors. What is more memorable: the message or the messenger? In today's celebrity culture, skilled media talent dominates the narrative. The messenger's presence and authenticity is more important than ever. In this 11th anniversary training, renowned media trainer Joel Silberman demystifies the art of media performance with take-away skills that have been used by countless performers, elected officials, progressive spokespeople and media stars."In a world where first impressions of our leaders are made in seconds, not minutes, how we present ourselves is crucial. Throughout my career, it has been my privilege to help my clients, in diverse professions, step up their game to realize their full potential," Silberman says. This rare public opportunity to look behind the camera and speakers' platform through the eyes of a master trainer is offered publicly only at Netroots Nation.
This training is open to everyone.
Trainer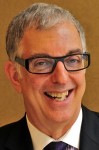 JOEL SILBERMAN (Democracy Partners) comes to political communications from a disciplined theatrical and musical career and is now a widely respected media strategist/trainer for progressive organizations, activists and candidates. Among his clients are: Progressive Congress, Earthjustice, Van Jones / Rebuild The Dream, Women Donors, Network, People for the American Way Foundation, the Young Elected Officials Network, Media Matters for America, the New Organizing Institute (NOI), the Gay and Lesbian Alliance Against Defamation (GLAAD), the National Women's Law Center, and the Lawyers' Committee for Civil Rights, The Leadership Conference for Civil and Human Rights, Markos Moulitsas (DailyKos.com), Nate Silver (538.com), Mike Lux, Lt. Dan Choi, GetEQUAL, Matthew Segal (OurTime.org) and numerous Federal, State and Local elected officials. Mr. Silberman is on the faculty of the Women's Campaign School at Yale University and is a frequent guest lecturer at the Juilliard School in New York.