No One Is Above the Law, Not Even the President: Attorney Generals and the Trump Administration
The courts have proved an invaluable ally in limiting the damage of the Trump Administration, and understanding who the Attorney Generals are in those fights and how we can support their work is critical to our success in protecting the rule of law and the people. Join us for a panel featuring some of the people who have been on the forefront of these issues.
Moderator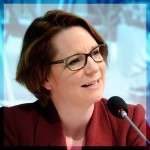 Progressive candidate for Congress in WA-01, working to build an America that works for ALL of the American people. Former executive director of ProgressiveCongress.org and the Progressive Congress Action Fund. Board member of the Netroots Foundation and the Center for International Policy. Former board member of NARAL Pro-Choice America, ActBlue, SNAP-PAC, Council for a Livable World's PeacePAC, and the Progressive Ideas Network. Principal on the Afghanistan Study Group. Author and organizer of A Responsible Plan to End the War in Afghanistan. Rabblerouser.
Panelist