Fundraising 101: Donor Research and Baller Asks
Session Type(s): Training
Training Tag(s): Basic Digital Organizing
Improving your fundraising is critical, whether you're running a small grassroots campaign or running for office. Our exercise-based curriculum will help you learn hands-on how to research donors and ask for money more effectively. And when progressives can raise more grassroots dollars, we win more. It's that simple. This training received rave reviews at Netroots Nation last year, and we're excited to offer it again!
This training is for all audiences. The training is geared toward beginners and includes basic information on grassroots organizing and campaigns.
Trainers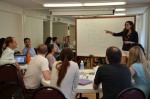 Sarah leads the Progressive Change Campaign Committee's (BoldProgressives.org) legislative outreach effort to build support for PCCC policy initiatives, working closely with congressional allies and their staff to incorporate bold progressive ideas into their legislative priorities. Most recently, Sarah helped lead the effort to build broad support for the Big Idea of debt-free college on the Hill resulting in a joint resolution introduced in the U.S. House and Senate. Prior to joining our Hill team, Sarah was a key member of PCCC's electoral team working with endorsed candidates on building strong fundraising programs in a competitive cycle. Sarah received her B.A. in political science from the University of Florida and her J.D. from George Washington University.
Other sessions: Millions of Jobs: How Progressives are Taking Back the Populist Narrative and Going On Offense on Infrastructure, Making Congress Listen: How to Transform Trump Anger and Movement Energy into Victories on Capitol Hill