Dare to Compete! Women Leaders for a Democratic Future
Session Type(s): Training
Training Tag(s): Grassroots Activism & Campaigns
Interested in running for office, but don't know where to start? Let Emerge America point you in the right direction during our Dare to Compete! training. Learn the basics on starting your run for elected office or support women who are running. After the 2016 election, America desperately needs the unique perspectives and skills women can bring to the table. Emerge America and the Emerge affiliates share one mission: to increase the number of Democratic women leaders from diverse backgrounds in public office through recruitment, training, and providing a powerful network.
This training is best suited for women who are thinking about running for office or who plan to run for office and want to learn the basics of how to get started. This is also a good refresher course for those who have taken previous trainings on how to run for office.
Trainers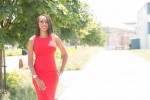 A'shanti F. Gholar is the Political Director for Emerge America, the only organization dedicated to recruiting, training, and empowering Democratic women to run for public office. For 15 years, A'shanti has been a grassroots organizer and activist for women, communities of color, and progressive causes. She has experience in building coalitions, program development, and community and political engagement.
A native Nevadan, A'shanti holds a Bachelor's Degree in Political Science and a Master's of Science Degree in Industrial and Organizational Psychology with an emphasis on leadership development and women in leadership. A'shanti was featured as a political influencer in CQ Roll Call Magazine and has recently appeared on TV One's NewsOne Now with Roland Martin.
Other sessions: Taking Seats at the Table: Black Women at the Intersection of Politics and Activism