Protecting Voting Rights in Communities of Color in 2012
Session Type(s): Panel
Starts: Thursday, Jun. 7 4:30 PM
Ends: Thursday, Jun. 7 5:45 PM
Room: Ballroom A
Black and brown voters turned out in record numbers in 2008. However, the introduction of voter ID initiatives in many states creates a new barrier for many Americans, particularly in traditionally disenfranchised communities of color. Voters in these communities—as well as students, seniors, the working poor and those with disabilities—will be most impacted. What coalitions and campaigns are underway to ensure these voters have equal access to the polls? How can we ensure that their voting rights are safeguarded and their voices counted? Panelists will provide case studies of campaign strategies and community solutions and tackle tough questions concerning voter ID laws.
Moderator
Panelists
Derrick Beetso is a citizen of the Navajo Nation and a graduate of Arizona State University's College of Law. Derrick currently works on tribal tax policy, Indian water rights matters, and Election Protection coordination and outreach for the National Congress of American Indians (NCAI).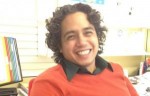 David is the New Media Manager for the National Council of La Raza (NCLR), a Latino civil rights organization headquartered in Washington, DC. In this capacity he oversees and manages the organization's online communities. He also works various components and staff across the organization to help create and implement social media strategies that will amplify NCLR's work. David originally hails from Corpus Christi, TX and holds a M.A. in Journalism from the University of Missouri. When he's not busy working on NCLR's social media, you can find him in DC record stores looking for records to add to his vinyl collection.
Find David on Twitter @dciii or on Facebook at facebook.com/davidcastilloiii