Collaboration, Not Co-option: Labor, Community Organizations and Occupy Wall Street Working Together
Session Type(s): Panel
Training Tag(s): Labor, OWS
Starts: Thursday, Jun. 7 10:30 AM
Ends: Thursday, Jun. 7 11:45 AM
Room: Ballroom B
Occupy Wall Street has not only been a successful movement in and of itself, but it was pivotal in reinvigorating the work of labor unions and community organizations throughout the country.  This panel will examine how labor and community organizations have collaborated with OWS over the past year—on endeavors including Occupy the Boardroom, Occupy Our Homes and bank actions throughout the country—and what the future holds for progressive partnerships.
Moderator
Greg Basta is the Deputy Director of New York Communities for Change – an organization of low income families with over 40,000 members fighting for social and economic justice throughout New York State. He's also the Staff Director for the Home Defenders' League – a coalition of organizations fighting to demand accountability from the banks and mortgage companies that caused the housing meltdown. Previously, Greg worked with community organizations and Occupy to create Occupy The Boardroom, a website that allows people to directly contact top corporate executives to give them a message from the 99%.
Panelists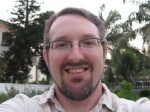 I've been around community organizing since 1993 when my best friend recruited me as the newest staff member for the Twin Cities affiliate of the aggressive membership-based organization of low- and moderate-income families called ACORN. I finished my tenure there as the organization's first real online campaigner and have been working since then to help community organizers deeply integrate online tool into their everyday organizing work. I helped (along with a group of other much more talented people) create the www.occupytheboardroom.org site during the rise of OWS.
Outside of my commitment to organizing, I love to travel, I enjoy taking pictures, some of which kinda look good, I like hiking, and I'm a giant fan of Major League Soccer (a phrase rarely heard or written). Follow me on Twitter at @nathanhjb.
Camille Rivera is the Executive Director of UnitedNY, which has been instrumental in helping to elevate the voices of New York's unemployed and low-wage workers in the fight for economic oversight and accountability. The group has been extremely active over the past year in building support for job creation, wage fairness, and worker justice here in New York City. The group has organized events such as the October 5 Community and Labor March from Foley Square to Zuccotti Park, the November 17th Rally and March for Jobs and Justice, and most recently, the April 17 th Day of Action to Reclaim Tax Day for the 99-percent. UnitedNY was an active part of the coalition that successfully saved the millionaires' tax in New York and is helping to organize low-wage workers in multiple industries into unions.
A Bronx native, Ms. Rivera is a graduate of Queens College. She is a former Community Organizer with the New York Public Interest Research Group (NYPIRG), and a former Deputy Political Director with SEIU 32BJ. Ms. Rivera is also a leader in the Working Families Party.
Nelini Stamp is currently serving as the coordinator for the Freedom Side. Nelini was the Director of Strategic Partnerships and Youth Engagement for Working Families, a grassroots progressive ground launched by a coalition of labor and community leaders that fights for economic and social justice. In that role, the focus of Nelini's work was leveraging community and youth leadership to move forward a broad-based progressive legislative agenda in the states, with a focus on student debt and the school to prison pipeline. In 2008 Nelini joined the staff of the New York Working Families Party and worked on numerous issue and electoral campaigns. In 2011 Nelini's work on the ground at Occupy Wall Street helped bridge the gap between labor and community based organizations with Occupy.