Netroots Nation events will be held at the COBO Center and will use the Detroit Marriott at the Renaissance Center as the headquarters hotel. See below for transportation between the venues. Netroots Nation is July 17-20, 2014.
Map of Downtown Detroit with points of interest for Netroots Nation 2014 highlighted: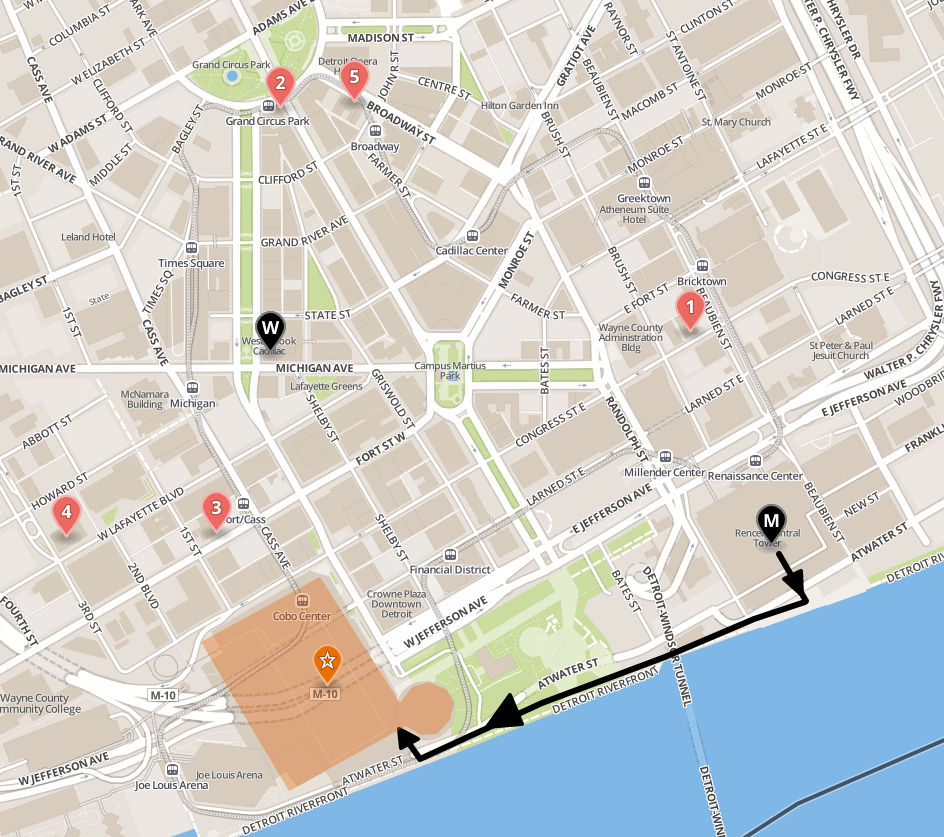 Map Legend:
STAR – Netroots Nation, Cobo Hall
M – Marriott Renaissance Center (hotel)
W – Westin Book Cadillac (hotel)
1 – Saint Andrew's Hall – 431 E Congress St, Detroit, MI 48226
2 – Grand Circus – 1570 Woodward Ave, Detroit, MI
3 – Anchor Bar – 450 W. Fort Street, Detroit, MI
4 – AFSCME Council 25 – 600 West Lafayette, Detroit, MI 48226
5 – Detroit Beer Company – 1529 Broadway St, Detroit, MI 48226
Airport and Transportation
The most direct way to get to NN14 is to use the Detroit Metropolitan Wayne County Airport (DTW), located about 22 miles from the convention center. Please be aware that cabs are in short supply at the airport. Your best option to get from the airport to either the hotel or convention center is probably RideSkoot shuttle service (see below for more info) or a rental car. You can find information on ground transportation options here. The area is also served by bus transit but the ride is nearly two hours. You can plan your trip using the Smartbus.org website. Allstar car service is another option if you need to arrange for a car to be waiting for you.
RideSkoot from the Airport
RideSkoot is Cobo Center and the Downtown Hotel Association's preferred shuttle service to/from Detroit Metro Airport. The number one choice for the most efficient and cost effective airport service to/from Detroit Metro Airport and Downtown Detroit. SKOOT's friendly, reliable drivers and staff work hard to make each and every trip a positive experience for their passengers.
From Detroit Metro (DTW) to Cobo Center or Downtown Hotels: 6:00 AM – 10:00 PM
From Downtown Detroit to Metro Airport (DTW): 4:00 AM – 10:00 PM
Departs every 90 minutes
Ticket Prices: $20 to the airport per person, $23 from the airport per person (*fuel surcharge may apply)
Use coupon code NETROOTS1 for $4.00 off your round-trip ticket.
To make your shuttle reservation by phone, call toll-free 855.937.5668 or 313.230.2331 or visit SKOOT online at www.rideskoot.com. Walkups available, however reservations are highly recommended. Cash and credit cards are accepted. Schedule and pricing are not determined by the Netroots Nation and are subject to change at any time without prior notice. ADA accessible upon request.
Other ways of Getting Around Detroit
As you travel to and from the convention center or explore the downtown area, there are a number of ways to get around:
Rickshaw Detroit Pedicabs, courtesy of Daily Kos, will be stationed outside of Cobo and the Marriott. The service is free for those with a credential. Available 8 a.m. to 10 p.m. Thursday and Friday and 8 a.m. to 7 p.m. Saturday.
People Mover - Downtown Detroit is served by a single-track monorail system called the People Mover. The People Mover trains come every 3-4 minutes and a the cost is $0.75 per ride. The People Mover operates Monday-Thursday: 6:30 AM – Midnight; Friday: 6:30 AM – 2 AM; Saturday: 9 AM – 2 AM; Sunday Noon – Midnight. There's a (flash-based) map of the people mover system here and a another version with the map as an image here.
Renaissance Center
Directions to the Renaissance Center, location of the Marriott Hotel. Here's a PDF the hotel provides. And the Renaissance Center complex can be a bit confusing, so there is also information on getting around within the building.
Cobo Convention Center
Cobo Center is located at 1 Washington Blvd. Detroit, MI 48226. 313-877-8777 [MAP]. Directions and transportation information from the Cobo Convention Center. Here's a PDF of directions and parking the convention center provides with directions.
Getting between Cobo and the Renaissance Center
There are two ways to get to and from Cobo and the Renaissance Center, the People Mover and walking:
Walking to Cobo from the hotel:
It's about a half mile or 10 min walk from the hotel to the convention center.
There are two directions you can walk Riverside or down Jefferson Ave:

Riverside: Walk  out the hotel on the river side and turn right, walk along the river until you get to the convention center. You can enter on the river side and NN is just inside those doors. (walking along the river side is indicated as a black arrow in the map at the top of this page)
Jefferson: The other option for walking is down Jefferson. The Marriott is 3 blocks from Cobo Center. Walk out the front of the Renaissance Center and take a left on Jefferson. You'll walk adjacent to Hart Plaza and right into the Jefferson entrance of Cobo. Both buildings are in view the entire time.
You can also view walking instructions on google maps or a marked up satellite image showing the way.
Dining & Activities
If your tummy's rumbling or you've got a little bit of time to spare, check out our dining and activity guide for local recommendations.