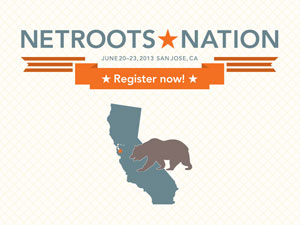 We couldn't be more excited to announce that we're coming to the Bay Area in 2013. We're proud of our hometown (over half the NN staff is based there) and our San Francisco values—and the embracing of innovation, creativity and equity that go along with it.
The Bay Area is homebase to a large part of the progressive movement. It's the home of Harvey Milk. Cesar Chavez organized up and down the Valley. Daily Kos, MoveOn.org and Change.org started here. Rebuild the Dream, CREDO and Citizen Engagement Labs (accelerator for Color of Change, Presente, Ultraviolet and others) are based here, as well as organizations like Sierra Club, Rainforest Action Network, the Ella Baker Center for Human Rights and Green For All.
California as a whole often leads the nation in pushing progressive policies and outcomes. It has long led the country in environmental policies, and in 2010 when a sea of red washed over the nation, that wave stopped at the Sierras.
In 2013, we're going to have to step up our game. When Obama wins in November, we need to push for the strongest possible progressive policies starting November 7.
Part of stepping up our game includes expanding our base. In the past year, we saw unprecedented activism from the technology community over SOPA and PIPA. This is a community that's largely been absent from activism despite assaults on a free and open internet. These attacks won't stop, and it's high time the technology community fully joined the progressive movement. There's no better way to do that than holding Netroots Nation in the heart of Silicon Valley.
It's hard to top the excitement and the high coming off Providence this year. But we can't wait to welcome everyone to the Bay Area in 2013.