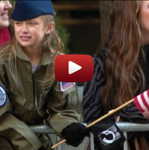 When most of us think of Netroots Nation, keynotes, panels and hallway conversations come to mind. One of the best-kept secrets of the convention is the screening series. This year we've got film showcases, sessions about filmmaking and full-length films.
The four film showcases will feature previews of films currently in progress, with feedback from the audience. Filmmaking session topics include comedy for activists, test screening your video, videos that change the debate and video open mic.
As part of the program, five full-length films will be shown:
The Invisible War: A groundbreaking investigative documentary about one of our country's most shameful and best kept secrets: the epidemic of rape within the military
Purity Myth: Pioneering feminist blogger Jessica Valenti trains her sights on "the virginity movement"—an unholy alliance of evangelical Christians, right-wing politicians and conservative policy intellectuals who have been exploiting irrational fears about women's sexuality to roll back women's rights.
At the River I Stand: A powerful documentary that reconstructs the two months in Memphis, TN in 1968 leading to the tragic death of Martin Luther King Jr., the climax of the civil right movement, and the 65-day strike of 1,300 Memphis sanitation workers.
American Teacher: This film tells the collective story by and about those closest to the issues in our educational system―the 3.2 million teachers who spend every day in classrooms across the country.
Laughter Against the Machine: An issue-oriented, no-holds-bar show with no preconceived expectations, no party lines, and certainly no cheerleading—because they have beef with everybody, including themselves. Two documentary filmmakers go to some of the most politically charged states in the country, to try and answer the question: "What role does comedy play in the revolution?"
There will also be a filmmaker caucus. Click here for more info about the screening series.