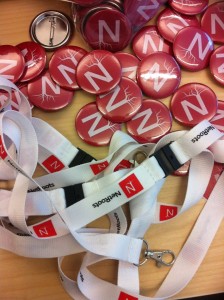 Greetings from Stockholm, Sweden!
In just a few hours, at 9 a.m. Eastern/6 a.m. Pacific, the inaugural Netroots Sweden will begin. The organizers Bjorn, Johan and Natalie have attended the last few Netroots Nation events in the US and it's been a long journey to get them to this point today. In the past, Swedish bloggers have gathered in small groups, but never at a gathering on this scale. The event is modeled on our annual event, and I hope they achieve the same outcomes by bringing people together.
An organization called Unionen will release a study of the left political blogosphere in Sweden to kick off the event. We should have a copy of the report to share in English by next week.
If you'd like to follow the action this weekend, you've got a few options:
You can follow the event's hashtag on Twitter at #natrot12. It's unclear how much of it will be in Swedish vs. English, people are equally comfortable conversing in either here.
You can follow me on Twitter @ravenb and I'll be tweeting about the event for as long as I have wifi.
You can look for updates on the official conference web site. It's of course written in Swedish but Chrome offers an automatic translation.
I'll be presenting at a few sessions on Saturday. See you online!