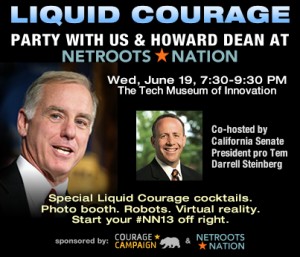 Our friends at the Courage Campaign have announced that they're throwing a party to open Netroots Nation 2013. We're really excited about this event because it's the first time we've had an official opening party. Over the years people have come in town early and done smaller happy hours or dinners with friends, but this will be different.
The event, Liquid Courage, will feature Gov. Howard Dean and will be held on Wednesday, June 19th from 7:30 to 9:30 p.m. at the The Tech Museum of Innovation in San Jose.
Make sure you book your travel and accommodations accordingly, you won't want to miss out.
You can also RSVP here.