The Netroots Nation Town Square (formerly the Community and Exhibit Hall)  has grown by leaps and bounds  to the point where it has become the central gathering place when attendees are not in sessions.
So after you've had a chance to check out the outstanding content that the NN staff and hundreds of volunteers have developed for this year's convention, stop by the Town Square to relax, network and check out the 90 exhibitors in the Town Square this year.
Here are just some of the great features of this year's Town Square:
Arcade Games – Let the games begin! The Alliance for American Manufacturing (AAM)  will have American-made arcade games at their booth. These include pinball, Ms. PacMan, Asteroids, foosball and a putting green.  On top of that, they'll be conducting arcade tournaments.
Oh, speaking of AAM, they are sponsoring an epic event on Saturday night.  Suffice to say if you like baseball and/or dancing, this is for you. AAM was formed in 2007 by some of America's leading manufacturers and the United Steelworkers to explore common solutions to challenging public policy topics such as job creation, infrastructure investment, international trade, and global competitiveness.
Fire Truck and More! – Have you ever been to one of those Touch-a-Truck days at community events where all the kids get to climb into the cab of a fire truck? And I bet you thought to yourself, "I wish I could do that." Well, now you can!
The International Association of Fire Fighters is bringing in a ladder fire truck INTO the Town Square for all attendees to check out. You'll even be able to try out firefighter gear and take a look at their big tool kit. The IAFF represents more than 300,000 full-time professional fire fighters and paramedics who protect 85 percent of the nation's population.
Art Space – A group of talented artists, led by longtime NN participant Favianna Rodriguez, is bringing a dedicated art space into the Town Square.
Visit the Educators –  We're so pleased that the National Education Association (NEA) and the American Federation of Teachers (AFT) will be represented in the Town Square.  Don't forget to visit AFT's school house or NEA's lounge.  AFT represents more than 1 million members nationwide. The NEA is the nation's largest professional employee organization, with affiliate organizations in every state and in more than 14,000 communities across the United States.
DailyKos Lounge – Why, of course we'll have the Daily Kos Lounge! Come here to chill out with fellow attendees, catch up on emails (iPads will be available to use in the Lounge as well) or put your feet up in a barcalounger. Oh, and for you pootie fans, let's just say a nod to you will be found in this area.
Hug a Thug – Oh,  the creativity of the AFL-CIO. Here's what they've got going on at their booth this year according to their spokesperson: "Sample some union-made beer, hug a union "thug" at the Hug-a-Thug photo booth and get game-show style answers to your workplace questions in "Can Your Boss Do THAT?!!!" The AFL-CIO is an umbrella federation for U.S. unions, with 57 unions representing more than 12 million working men and women.
Radio Row – Several radio shows will be broadcasting from the Town Square as well including several Sirius programs, Ring of Fire, This Week in Blackness and Progressive Voices.
Other features in the Town Square include concessions for your snackage/lunch needs, the Netroots Nation booth where you can pick up your registration bag and buy NN t-shirts, the Town Square Stage (including appearances by former Congressman Barney Frank, Joan Walsh and Lizz Winstead) and the self-organized caucus area.
And don't forget to check out all the exhibitors in the Town Square who are leading the charge on activism and innovation.
There is so much more going on, so keep an eye on the #nn13 hashtag as exhibitors announce events taking place at their booth. And see you in San Jose!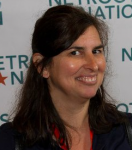 Linda Lee