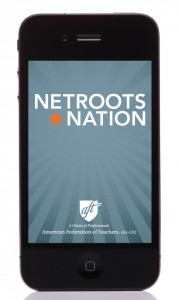 Thanks to the generous support of American Federation of Teachers, we're able to offer our hit mobile app again at Netroots Nation 2012. It's available on the iPhone, Android and Blackberry platforms—and for the first time, there is a special HD version for the iPad. You can find it by heading to your app store and searching for "Netroots Nation." On the Blackberry platform download it directly from here.
Once you've downloaded it, here are a few things you'll want to check out:
Personalized schedule
You can browse our schedule in a variety of ways: by day, by topic, by session type, by speaker and by what's happening now. The same information on our website is available, including speaker bios and photos when supplied. But more importantly you can mark sessions as favorites to create your own personalized schedule. This can be accessed in a special schedule view or simply as a list.
Sponsors and exhibitors
Netroots Nation wouldn't be possible without the support of all of the sponsors and exhibitors we recruit each year. But in addition to financial support, they also do awesome things. You can easily access descriptions and see who will be there, and if they're an exhibitor easily locate their booth in our exhibit hall.
Connect with other attendees
Right after you sign in you should click the "Contacts" icon and go to "Edit your contact info." You can choose what information is available for others when shared. Under the "attendees" section you can choose others to share your information with by clicking their record. On the iPhone you can also import all the contacts you collected right into your address book.
Maps
The app contains maps of the exhibit hall, the convention center and an area map with the location of the convention center, official hotels and the official off-site events. It'll help orient you so you won't ever wonder where you need to go. There will also be ample signage in the convention center and you can also ask anyone in a volunteer T-shirt for help.
Rating sessions
If you click any session in the schedule you'll notice that can click 1 to 5 stars for each session. This is just a quick and easy way to rate the sessions you're attending. If you really loved it, rate it 5 stars. After everything is over, this will give us some indication as to what kinds of sessions were most successful.
Other goodies
There are a number of other goodies in the app to discover.
Twitter is a big part of Netroots Nation, and it's tied into this application so you can tweet about sessions and follow the #nn12 hashtag.
We'll have a lot of authors in attendance at Netroots Nation. If you want to purchase their books, be sure to check out the virtual bookstore icon. Many authors will be selling books on site and signing them as well. Be sure to look out for the author signing schedule, to be distributed at the registration desk.
We've got a donate icon this year in the app and if you'd like to support our work we'd appreciate anything you're willing to give.
And finally, an icon will be revealed on Saturday with information on the NN13 location!
If you experience any problems with the app, just approach our registration desk or any volunteer for help.