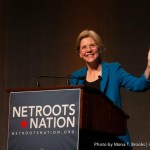 Since the first convention, candidates and electeds have participated in a big way.  And I use the words participate intentionally, because it isn't that we've just seen them speak or been talked to at Neroots Nation. No, even the highest office holders come to participate and engage with attendees. If you've been to one of our conferences, you've probably walked the hallway with Senators, mayors, governors and members of Congress. It's part of what makes Netroots Nation special—that electeds and candidates come to listen, not just speak.
So a big congratulations to past Netroots Nation speakers who won on Election Day 2012:
President Barack Obama, Tammy Baldwin (WI-SEN), Sherrod Brown (OH-SEN), Ben Cardin (MD-SEN), Martin Heinrich (NM-SEN), Mazie Hirono (HI-SEN), Amy Klobuchar (MN-SEN), Elizabeth Warren (MA-SEN), Sheldon Whitehouse (RI-SEN), Minority Leader Nancy Pelosi, Earl Blumenauer (OR-03), Judy Chu (CA-32), David Cicilline (RI-01), Lloyd Doggett (TX-25), Donna Edwards (MD-04), Keith Ellison (MN-05), John Garamendi (CA-10), Joe Garcia (FL-26), Alan Grayson (FL-09), Raul Grijalva (AZ-03), Luis Gutiérrez (IL-04), Steven Horsford (NV-04), Ann Kuster (NH-02), Jim Langevin (RI-02), Jerrold Nadler (NY-08), Jared Polis (CO-02), Jan Schakowsky (IL-09), Carol Shea-Porter (NH-01), Kyrsten Sinema (AZ-09) and Debbie Wasserman Schultz (FL-23).
If you haven't already registered for Netroots Nation 2013 in San Jose, do it today—you never know who you'll run into!