Senator Udall addressed Netroots Nation in the letter below.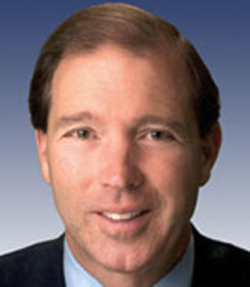 I hope you are enjoying Netroots Nation 2013. I regret I couldn't be there with you as planned, but I've been in Washington working on historic immigration reform – something I know you care deeply about, and something very important to my home state of New Mexico.
You're here for a very important reason – our democracy is in trouble. Voters feel shut out. Money is overwhelming our elections. The Senate is mired in gridlock.
These problems can be discouraging – but together, we're doing something about them.
This week I introduced my constitutional amendment to overturn Citizens United. My amendment is simple – it will undo the false premise that money and free speech are the same thing, and return power to regulate elections back the American people, through Congress and the states.
James Madison argued the U.S. Constitution should be amended only on 'great and extraordinary occasions'. I believe we have reached one of those occasions. We cannot stand by and let corporate money drown out the voices of the middle class. Read more about my constitutional amendment and encourage your Senator to sign on if they haven't already.
In the last Congress, there were 25 cosponsors of my amendment. On the first week of reintroducing it, we're already up to 18. Amending the Constitution is hard – and it should be. But it is not impossible, especially with your help.
We have a lot of momentum on our side. Since Citizens United, 15 states (that's 30 % of the U.S.) and more than 400 local governments have called on Congress to take action. In 2012, voters in Colorado and Montana approved the first statewide ballot initiatives supporting such an amendment, which passed with more than 70 % of the vote. We have to expand this movement to all 50 states, and I need your organizing power to do it.
In addition to campaign finance reform, I've been proud to lead the charge with my friend and colleague Senator Jeff Merkley to reform Senate rules, so we can make the Senate work again for the American people.
At the beginning of this Congress, we were able to make modest reforms, and even though we didn't get the rules changes we sought, we wouldn't even be having the discussion if it weren't for you.
Those reforms are being tested as we speak, and we're going to need your voices to break the logjam in the Senate.
You can do this right now by joining the Fix the Senate Coalition – a group led by the Alliance for Justice, the Communication Workers of America (CWA), Common Cause, Sierra Club and others. Like them on Facebook and follow them on Twitter @FixTheSenate to send a message loud and clear – it's time to #fixthesenate.
My uncle Mo used to say reform isn't for the short-winded. Fortunately you all have a lot of lung power, and I'm thankful for the work you do every day.
In fact, you helped me decide to run for the Senate in the first place. The "Draft Udall" movement was started by the Netroots, and since becoming a Senator, I've been proud to work with you to change the way we do business in Washington.
Cheers,
Tom Udall
Senator for New Mexico
PS – In case you missed it, be sure to watch the archive on "The Three Keys to Reclaiming Our Democracy" with Senator Merkley, Ben Jealous of the NAACP, CWA President Larry Cohen, Executive Director of Greenpeace Phil Radford, Karen Scharff of Citizens Action of New York and moderator Joan Walsh, who talked about the new coalitions being built around these issues and how we are working together to save our democracy.